When actress

Shailene Woodley

shared her beauty routine in her interview with

Into The Gloss,

she surprised us all with her natural beauty routine. She shared that since high school, she was an avid environmentalist and probably doing something with natural and healthy food industry if she didn't end up in acting industry. With her beauty routine and everything about her skin, make-up and hair, she wants to keep everything

100% Pure,

low key and very natural.
"My suitcase must absolutely contain . . . Living Libations' Seabuckthorn Best Skin Ever."

– Shailene Woodley, Actress and Activist
On that talk, she exposed how she's an enthusiast of "natural" products like when she discovered the amazing benefits of eating clay and described it as "one of the best things you can put in your body" for it helps to clean heavy metals out . Not to mention, she discovered it through a simple talk with a taxi driver.
Shailene also shared how she loves a natural way to heal where swishing coconut orsesame oilin your mouth can make our teeth whiter.
And you know what? The actress happens to be a proud admirer for Living Libations, an exquisite line of serums, elixirs and essentials oils from the purest botanical products for health and beauty. She went on to brag in her interview that the Canadian based company offers the highest-integrity products, ships their products mindfully and "beyond pure".
She's using SeaBuckthorn Best Skin Ever™ for her skin moisturizer to keep it natural which is an all-in-one cleanser and exfoliator. And according to the company's site, this product has beneficial omegas, antioxidants, fatty acids, vitamins, lipids, and hundreds of bioactive compounds. It also resets skin to its natural state of luminous, sparkling wonder! I use this moisturizer all the time on my skin, and it always leaves my face feeling clean, soft, smooth, and hydrating. Sea buckthorn is everything you can ask for in a skin care beauty product.
Shailene is also using Living Libations's shampoo for her low-maintenance hair which is also is beautiful for babies, children, as a bubble bath, and body wash too. Seabuckthorn Shampoo is an organic and/or wild crafted ingredients with pure spring water, brings out the best in all hair types without the chemical suds. I personally love using Living Libations's True Blue Spirulina Shampoo and Conditioner to wash my hair, as it always makes my hair smell good and feel thicker, stronger and clean.
It is indeed surprising how we think that Shailene is a fancy actress since she's been in the lime light and well known in Hollywood. She isn't that person we thought she is. A low key and devotee of natural products is now the Shailene that ITG introduced to all fans.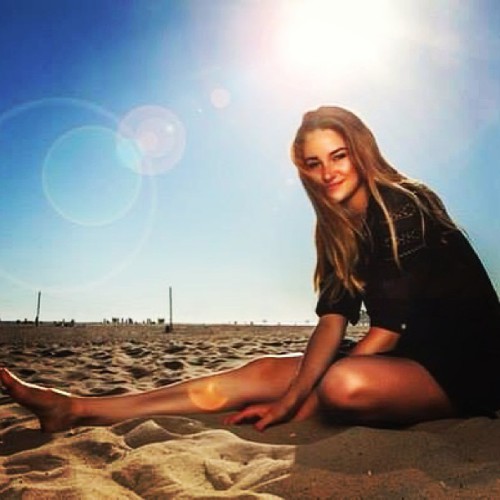 Actress Abbie Carnish also loves Living Libations products and their essential oils..
Featured Product For The Best Skin Ever™!
—
FTC Disclosure: This post contains affiliate links. If you make a purchase using the above links, I may receive a small commission off your sale. Your support is much appreciated and goes towards my blog. Thank you.